Fun and Games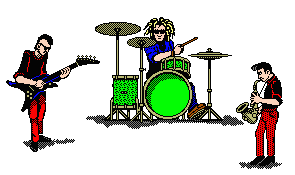 ---
Magnum was formed in May of 1978 by Lonnie Warner and Steve Weiss, formerly of the popular disco group Trust, with the help of Dave Sestak of Media 5 Entertainment. They teamed up with former Auburn member Butch Samolewicz, Dave Werkhiser of Oasis, Charlie Lippincott of Kydds and bass player, sound and light man Rico Corcoan. Magnum debut in July of 1978, and overnight established themselves as one of Lehigh Valleys favorite bands. Later in 1978 they expanded their appearance schedule, gaining fans and building a professional reputation throughout Eastern Pennsylvania and New Jersey. Magnum was Voted #1 rock band, in the annual rock Poll in the spring of 1979, conducted by WZZO-FM 95, Bethlehem, PA.
The band moves forward in 1980, by the addition of Tommy Zito, former leader, keyboard player, and lead vocalist of the national recording group Uproar. The band now focused in writing original tunes and fine tuning their talent. That same year Magnum is voted #1 rock band for the second consecutive year by WZZO-FM 95. The group that year performed with other great artist such as, Hall and Oats and Dave Mason at the Playpen (one of the east coast largest clubs), as well as other venues from the Pocono's in PA to Wildwood, NJ. July of 1980 Magnum headed up to Philadelphia to begin recording their first single, "Rock and Roll Man", b/w "Fun and Games" produced by Billy Terrell. Magnum's performance schedule was now full as they appeared in top Lehigh Valley Clubs and college concerts down to famous Florida clubs such as the Candy Store in Ft. Lauderdale and Big Daddys Lounge in West Palm Beach.
July of 1982 marks the debut of Mike DeFrank, formerly of Gandalf, and brought his experience as lead vocalist and guitarist to Magnum, which added to the ever-growing popularity of Magnum. Magnum began recording at Grandslam Studios in West Orange and in July of 1983, tracks were completed for Magnum's first album Chelsea Sound in New York City. (Engineer-Gary Russeland, assisted producers Jerry Huldzik and Bill Kelly) The Hot Nights album was mixed by Paul Northfield, of Quebec, a veteran of Rush and Asia projects, and the album was the first release of Allentown International Recording Artists, a new independent label founded by former Apple Records employees. Public Memory #1 the first single from the album, was picked by Billboard Magazine in the October 8, 1983 issue as having the potential to reach the Top 30. At the same time Public Memory #1 was on the play lists of radio stations in Pa, NJ, MD, Delaware, and was scheduled to appear on WPHL-TV Channel 17 "Dancin On Air". Joe Bonadano of WMMR chose Magnum to simulcast a concert from the Empire Rock Club, as a result of Billboards ratings and the strength of their recorded material, now receiving substantial airplay. Other than their TV appearances and airplay, Magnum was featured in hundreds of musician's magazines and newspaper articles along the coast.
Magnum was a show stopping success before 20,000, opening for survivor in Daytona Beach. In 1985, besides acquiring Kent Warner bass guitar player and vocalist, Magnum was chosen for the Miller Rock Network, and was later elected The Rock Network's top band for 1985. Despite the yearly renewal of Rock Network bands, Magnum was chosen to remain on the roster for a second year and also featured Public Memory #1 on a second Miller/RCA compilation Album. The 1986 tour took Magnum back down to Florida's Spring Break scene, opening for Southside Johnny and the Asbury Jukes, in Daytona. Tommy left the group in early 1987 to join the RCA recording group Aviator and was replaced by former lead vocalist of Gems Edge and Flashback, Bob Mason. Bob debuted on February 25, 1987, contributing to lead vocals, rhythm guitar and keyboard parts. The following summer, Avalon's Jack Place became the new Magnum summer home. That November Rory Castellano, formerly of Duke (The Greg Howe Band), joined Magnum as bassist and background vocals. Tragically, later that month, Magnum experienced the great loss of their video man, Tom Makl, who was also the director of the Magnum International Fan Club. A friend to all, Tom was and still is greatly missed.
1988 brought the release of No Secret Album, produced by former Scandel member Benjy King, and engineered by Kent Heckman, on Mothra records. After some personnel changes in 1990, Magnum's popularity continued to emerge with a strong lineup, including, Kjell Banner, who toured South America with Quiet Riot, on bass, and Jeff Smith, lead vocalist and guitarist, from Jim Thorp, Pennsylvania. At the shore the Star Dust, became Magnums summer home and hot spot of Wildwood, New Jersey. Along with their originals and other favorite cover songs, the band featured Led Zeppelin and Aerosmith covers that this version of Magnum was well know for. This final version of Magnum was intact until their final job, September 4th 1994, at the Stardust.
Magnum By all accounts remains the longest running rock band in Pennsylvania. There has been no other that has endured for 16 years like Magnum, which is a testament to their dedication and love of the art. The maintained from 1978 to 1994, a high quality of musicianship. When you add up the fun songs, comedy routines, and all their other crowd pleasing selections, it is easy to see why Magnum was one of the top bands of its times.